October 4, 2012
WIN THE PERRY PEAR, GLOUCESTERSHIRE ORCHARDS COLLECTION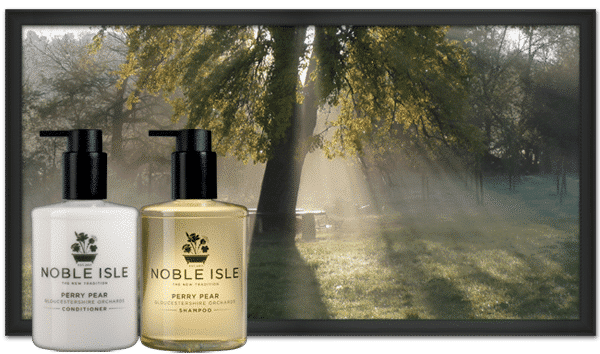 Enter our October competition for the opportunity to take home our Perry Pear Shampoo and Conditioner. Find the answers on our bespoke interactive map of the British Isles that has been created to unfold the story of our extracts provenance.
Even before there was the county of Gloucestershire, there was May Hill – a monumentally rotund mount rising out of the English countryside. According to the dusty corners of local lore, the hill was once the stomping ground of giants, one of whom thundered home on an early autumn day bearing a handful of perry pears. His curiosity piqued, one colossal companion ventured a bite but spat it out with great haste, shooting the flesh and pips across the surrounding countryside, and sowing the seeds of Britain's oldest orchards.
As well the fabled giant might have puckered his mouth – unlike dessert pears, raw perry pear is an eye-scrunching, bitter experience. But this sour little fruit comes alive in the fine, delicately sparkling old English tipple known as perry – a choice quaff when champagne was a mere sparkle in Dom Pérignon's eye.
Legend dictates that a perry pear tree will prosper only within sight of May Hill, which places Gloucestershire in pole perry position. Boasting over one hundred exceedingly rare – some even unique – cultivars, the county considers itself the world capital of pears. Given its fabulously fruity collection of old names – from the utterly quizzical Early Treacle, Golden Balls and Yellow Huffcap to the punch-drunk Merrylegs, Mumblehead and Lumberskull – who could possibly disagree?
All you have to do is answer the following question:
What county does Noble Isle source its Perry Pear from?
For your chance to win, all you need to do is the following:
• Like us on Facebook & submit your answer via the competition tab by clicking here
• Or Follow @nobleisle on Twitter and submit your answers with the following #WillowSong
The competition closes on Wednesday 31 October, 2012.
We will announce the winner 3 days later.