March 24, 2020
Time To Look After Your Hands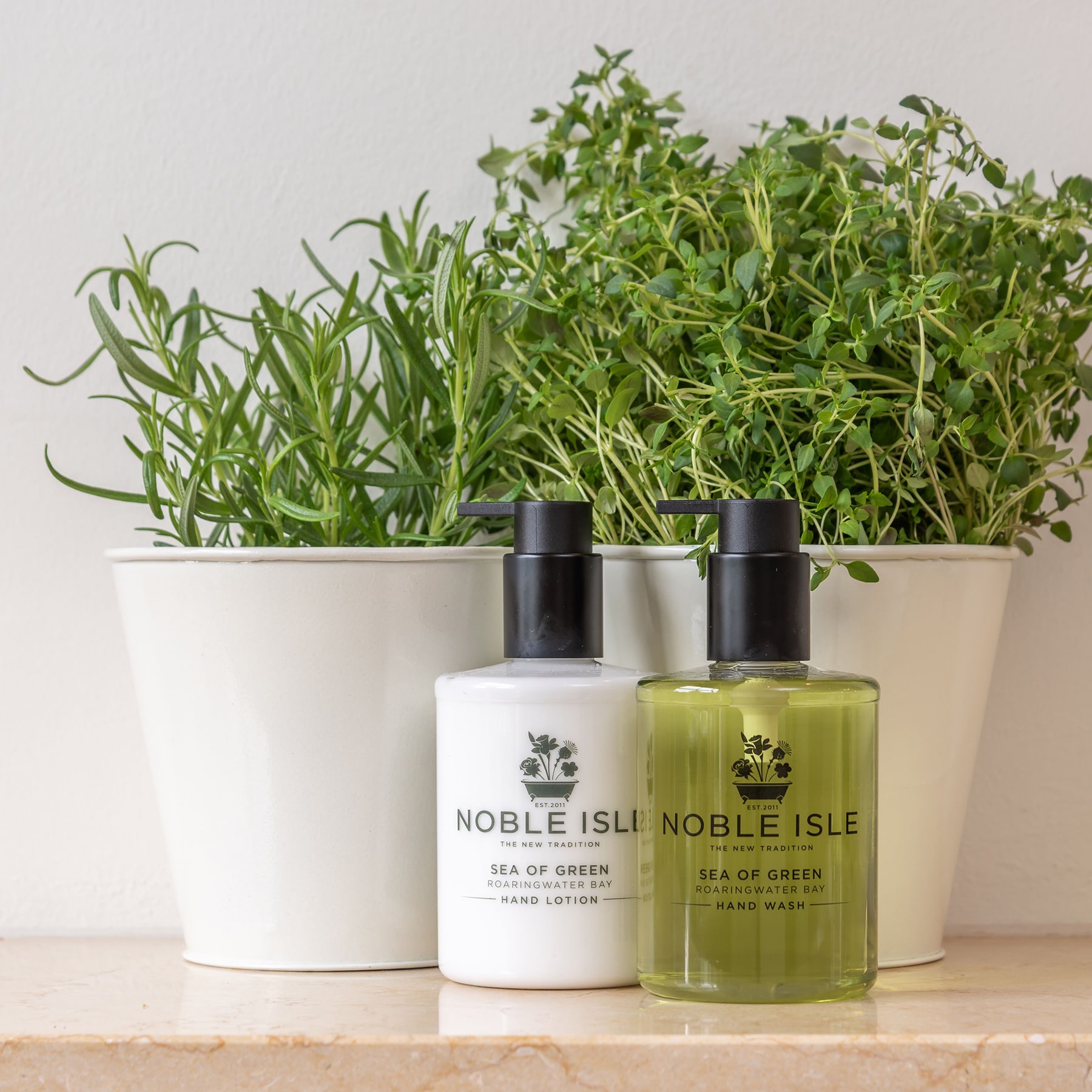 The Government's advice is to wash our hands for 20 seconds, perfect for removing bacteria but very drying for our skin. We take care of our bodies, our hair, our faces but our hands are often neglected in our usual self-care regime.
It is important to ensure that hands are dried properly in between washes and to keep moisturising to prevent cracked skin and flakiness. It is 20 seconds for washing your hands (sing Happy Birthday, twice!) and 10 seconds for moisturising (you could try For He's A Jolly Good Fellow…).
All of our Hand Washes are natural anti-bacterial, non-drying, use natural extracts and fill your washroom with the delicate scents of the British Isles to make the everyday task of washing your hands that little bit more enjoyable. Everything is vegan friendly, cruelty-free and paraben and SLS-free.
The Science of Washing Your Hands
Our Hand Soaps are a natural antibacterial and contain natural cleansers to help get rid of germs and bacteria.
Soap contains amphiphiles which is what makes them effective. These amphiphiles effectively pull the bacteria/virus apart, making it soluble and the virus disintegrates. Experts have explained that normal soap and water is all you need to kill the covid-19 virus.
Washing your hands for 20 seconds with soap is effective at removing the bacteria or virus, you only need to use hand sanitiser gel if you are out and unable to wash your hands.
You can find more out about this here: https://www.theguardian.com/commentisfree/2020/mar/12/science-soap-kills-coronavirus-alcohol-based-disinfectants
And here: https://www.thestate.com/news/nation-world/national/article241225781.html
Our Hand Washes and Lotions: Bringing the Outside into Your Home
Rhubarb Rhubarb! available in a matching Hand Wash and Hand Lotion for £32.
Our award-winning Rhubarb Rhubarb! Luxury Hand Wash and Hand Lotion are rich in vitamin C and calcium thanks to the abundance of Rhubarb, well known for its invigorating and cleansing properties. Both aromatically and aesthetically pleasing, our popular, pale pink collection will turn washing your hands into the ultimate sensory experience.
A bittersweet fragrance reminiscent of the dewy wake-up of a Yorkshire spring, with cleansing extract of 'forced' rhubarb and notes of juniper berry and muddled rosemary.
Sea of Green available in a matching Hand Wash and Hand Lotion for £32.
This mineral rich, Sea of Green Luxury Hand Wash and Hand Lotion are abundant in vitamins and minerals, promoting healthy, bright hands, while filling your bathroom with fresh, clean and lush scents of the coastline. Perfect for bringing the seaside into your home.
A verdant coastal fragrance inspired by the Atlantic coastline, with extracts of mineral-rich sea oak and samphire with notes of sappy thyme, ivy and juniper.
Whisky & Water available in a matching Hand Wash and Hand Lotion for £32.
Our Whisky & Water Luxury Hand Wash and Hand Lotion are aromatic and rich with undertones of wood and spice blended with a wealth of proteins from the natural barley extract, a natural skin calmer. Shut your eyes and imagine yourself in the corner of a cosy pub having a tumbler of whisky!
A liquid gold redolent of the finest oak-aged single malt with warm vanilla and cedarwood on the nose and skin-calming extract of Scottish malted barley.
Tea Rose available in a matching Hand Wash and Hand Lotion for £32.
Our pure and charming Tea Rose Luxury Hand Wash and Hand Lotion protects and softens hands, thanks to the natural extracts of black tea and rose petals, which contains precious natural oils that help lock in the skin's moisture and promote smooth skin. This elegant and sophisticated collection takes inspiration from the British ritual of afternoon tea, a pause, a pleasure, a punctuation mark in the day's affairs.
Allow this elegant scent to transport you to the grandiose dining halls of the London hotels, with a cup of tea, glass of bubbly, cucumber sandwiches and fresh scones.
A pure and charming scent, with all the grace and finesse of a London afternoon tea, steeped in soothing black tea leaves and English rose petals, and blended with refreshing notes of jasmine and crisp clary sage.
Golden Harvest available in a matching Hand Wash and Hand Lotion for £32.
A fresh, green fruit fragrance using a blend of three English Grape varieties, the exquisite Golden Harvest Luxury Hand Wash and Hand Lotion are the perfect addition to any washroom. Our Golden Harvest collection is created as an aromatic golden fruit, earthy woods and musk fine fragrance, combined with antioxidant English Grape extract.
The fresh, summer scents are perfect to reinvigorate your home and your mind.
A glorious blend of mellow fruitfulness inspired by fruits of the vine with notes of violet leaf, sun-ripened grape and green apple, embellished with the gentle fizz of juniper berry and antioxidant grape extract from the North Downs of Kent.