May 13, 2017
BRITAIN IN A BOTTLE… INTERVIEW WITH OUR TRUSTED ELDERFLOWER & GOOSEBERRY EXTRACT GARDENER IAIN DAVIS FROM THE LOST GARDENS OF HELIGAN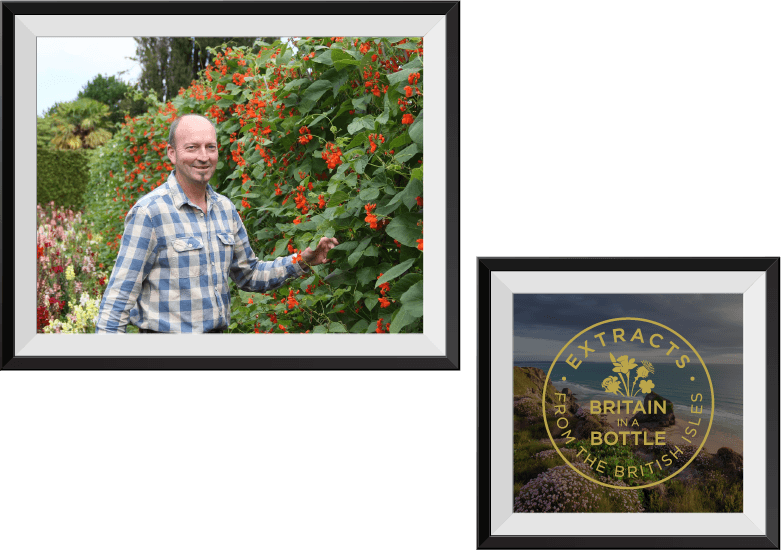 Q1. Please tell us briefly about the origin of the Lost Gardens of Heligan?
Following the outbreak of World War 1, 13 men from the Heligan Estate enlisted to fight for their country. The sad loss of 9 Heligan staff lead to the gradual decline of this once magnificent 200-acre estate.
On Monday 16th February 1990, The Lost Gardens of Heligan were rediscovered from the brambles of time. Today, Heligan remains one of the most loved and romantic gardens in the UK, appreciated as much for their beauty and mystery, as for the ground-breaking restoration project – the largest in Europe.
Q2. What do you like to do with your spare time when not working?
I really enjoy walking coastal pathways and looking at what is growing, then finding a spot to take in the breath-taking Cornish scenery.
Q3. What is the favourite part of your job/role?
Watching the next generation of horticulturalists develop with the traditional skills needed to succeed.
Q4. Do you have a favourite Noble Isle product other than Summer Rising and why?
Yes, and it would be because Beetroot is my favourite food product and I love the fact you are using this within your range….so it is Fireside! Love the name as well.
Q5. Can you tell us an interesting fact about Elderflower and Gooseberries grown in your gardens?
With Gooseberries I am always astounded by the amount of Vitamin C released which is very high. They are also extremely high in fibre and a valuable source of manganese and Potassium and Vitamin A.
A fully ripe Gooseberry will almost always be very sweet. They tend to be picked early for commercial purpose when they are quite sour for cooking purpose and thus I think popularity is kept restricted!
Elderflower obviously can be eaten and consumed by us, as can their bluish fruits…. but leave the unripe green berries, twigs and leaves as these are toxic. Also, be aware of other species of Elder as the Red elder berries are quite toxic!
Our Founder, Katy's favourite Noble Isle recipe using Gooseberries and Elderflower, for you to try at home:
GOOSBERRY AND ELDERFLOWER JAM – MAKES 5 X 300G JARS
Gooseberries and Elderflowers are match made in heaven and normally come into season at the same time in late May, June – depending on the weather (obviously not this year!). Due to ripening together during the early summer months, they herald the beginning of the summer and hence our product name – Summer Rising. Make in the summer and eat in the winter to remind you of those balmy summer days.
Ingredients:
1kg x Gooseberries
8 heads x Elderflower
1kg x Granulated sugar
1. Put the Gooseberries into a large saucepan with 500ml of water. Now add the elderflower heads on top of the gooseberries. Cook gently until the berries are soft. Remove the elderflowers.
2. Add the sugar. Stir carefully, so as not to break up the fruit, until the sugar has dissolved, then bring to a full rolling boil and boil for 9 -10 minutes.
3. Remove from the heat, allow to rest for 10 minutes, then pot and seal.
P.S Also makes a lovely sauce for the BBQ, just add balsamic vinegar and heat up in a small saucepan. Once cooled and the flavours are mixed, spoon over the meat of fish.