July 8, 2020
THE TOP BENEFITS OF BATHING REVEALED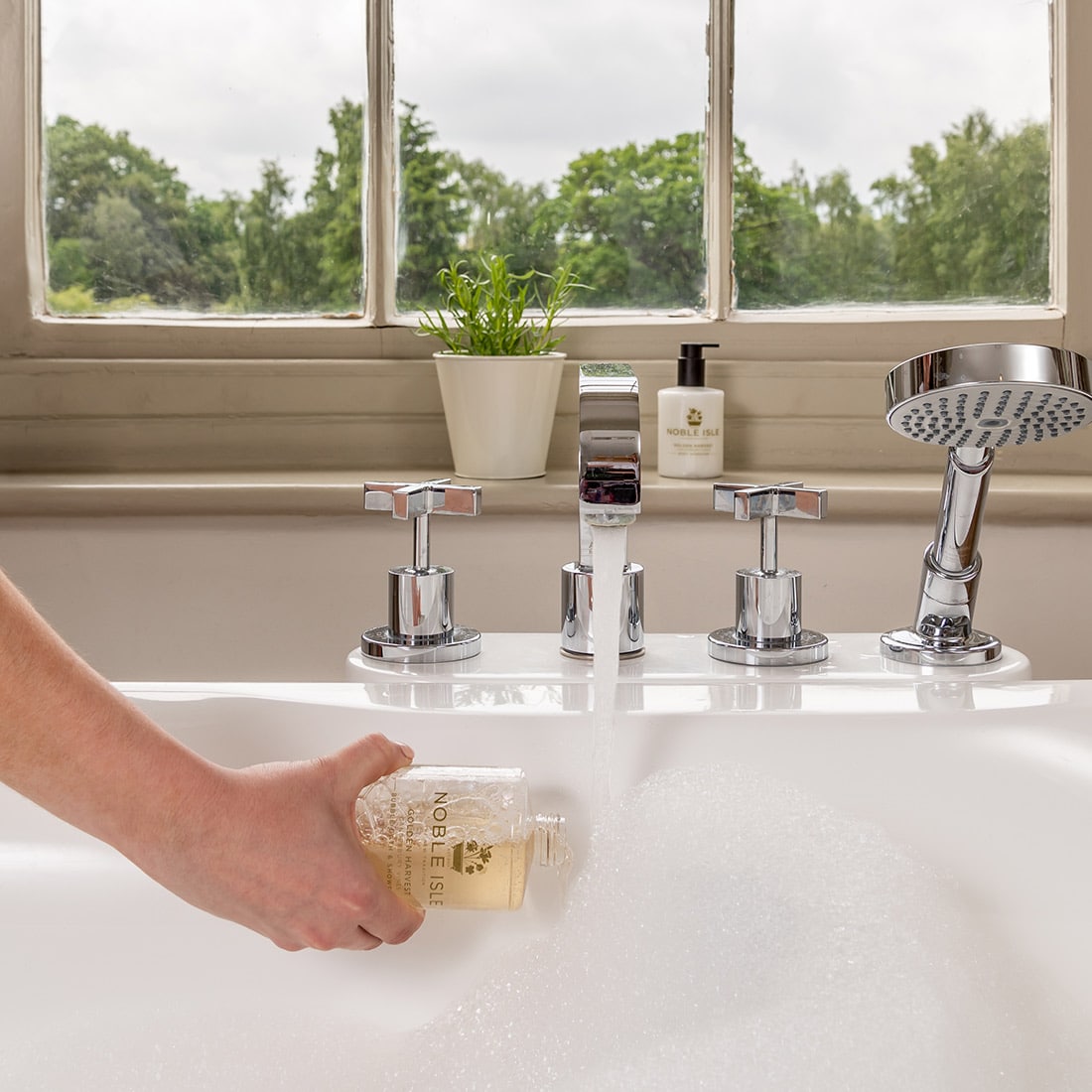 At Noble Isle we are strong believers in the joys of bathing – and our luxury Bath & Shower Gel collections are designed to make this pleasurable experience into a glorious sensation for the senses. But did you know that taking a bath has health benefits too? Read on to find out more…
Get happy
We all know that immersing our bodies in warm water feels good, but research indicates that the beneficial effects of a warm bath on our mental wellbeing last long after we have emerged into the world. Immersion in warm water recalls our time in the womb, making us feel safe and comforted therefore allowing our brains to relax and senses to be calmed. The complete escape a bath provides from our everyday activity also encourages our minds to reset, wiping worries away and often allowing new creative solutions to emerge. Try our Willow Song Luxury Bath & Shower Gel, with extracts of willow bark and water lily, for a serene and soothing fragrance that will transport you to the new promise of a spring morning.
Sleep tight
Our body temperature naturally drops as we get tired, encouraging the production of the sleep hormone melatonin. Taking a bath artificially warms our body – but when we climb out, we experience a rapid drop in temperature that fools our bodies into thinking we are preparing for slumber. For a good night's sleep, it's recommended that you take a bath within an hour of bedtime. And of course, the bath will also have relaxed you, making sleep easier to come by. For a warming, sensual bathing experience, try our spicy Fireside Luxury Bath & Shower Gel with its blend of cinnamon, cypress oil and vanilla.
Relax your muscles
It's well known that a warm bath can relieve aches and pains caused by exercise. This is because heat increases the blood circulation and so the elasticity of our connective tissue, helping sore, tight muscles to stretch and relax. Heat also increases our metabolic rate, which in turn boosts recovery. If you want to do more than just soak up the benefits, try some gentle stretching in the bath – the resistance of the water will increase the workout while its buoyancy safely supports your limbs.
Breathe deep
The steam from a hot bath penetrates and helps to clear any blockages in your sinuses and chest, so breathe deeply – and take time to enjoy whatever fragrance you have chosen to enhance the experience. In addition, the warm water makes your heart beat faster, increasing the amount of oxygen your lungs can take in. So a hot bath is the perfect remedy to soothe the symptoms of cold or flu, as well as relieving headaches. Why not try adding our invigorating, cleansing Rhubarb Rhubarb! Luxury Bath & Shower Gel, with notes of juniper and rosemary, to the mix?
Heart health
The heat of a bath induces better blood flow and circulation by encouraging the blood vessels to dilate, so a warm bath can help to lower high blood pressure – as well as reducing anxiety and promoting relaxation, both of which have a positive impact. The heat also makes your heart beat faster, providing the equivalent of a mini work-out! Some research even indicates that a bath can be a good way of burning up calories – though most medics agree that it is better to exercise first, bathe later.
Cleanse and renew
The human body is largely made up of water – and as well as drinking it, hydrating through bathing can have huge benefits, especially in healing dry or irritated skin. Exposure to hot water also opens the pores, allowing trapped dirt to escape and the skin to be thoroughly cleansed even without the addition of soap. Our Whisky & Water Luxury Bath & Shower Gel has been specially formulated to calm the skin – or for a truly immersive experience, our Golden Harvest Luxury Bubble Bath & Shower Gel cleanses, relaxes and adds a touch of indulgence to any bathing experience.