October 29, 2019
Scenting Your Home – Discover our New Home Fragrance Collection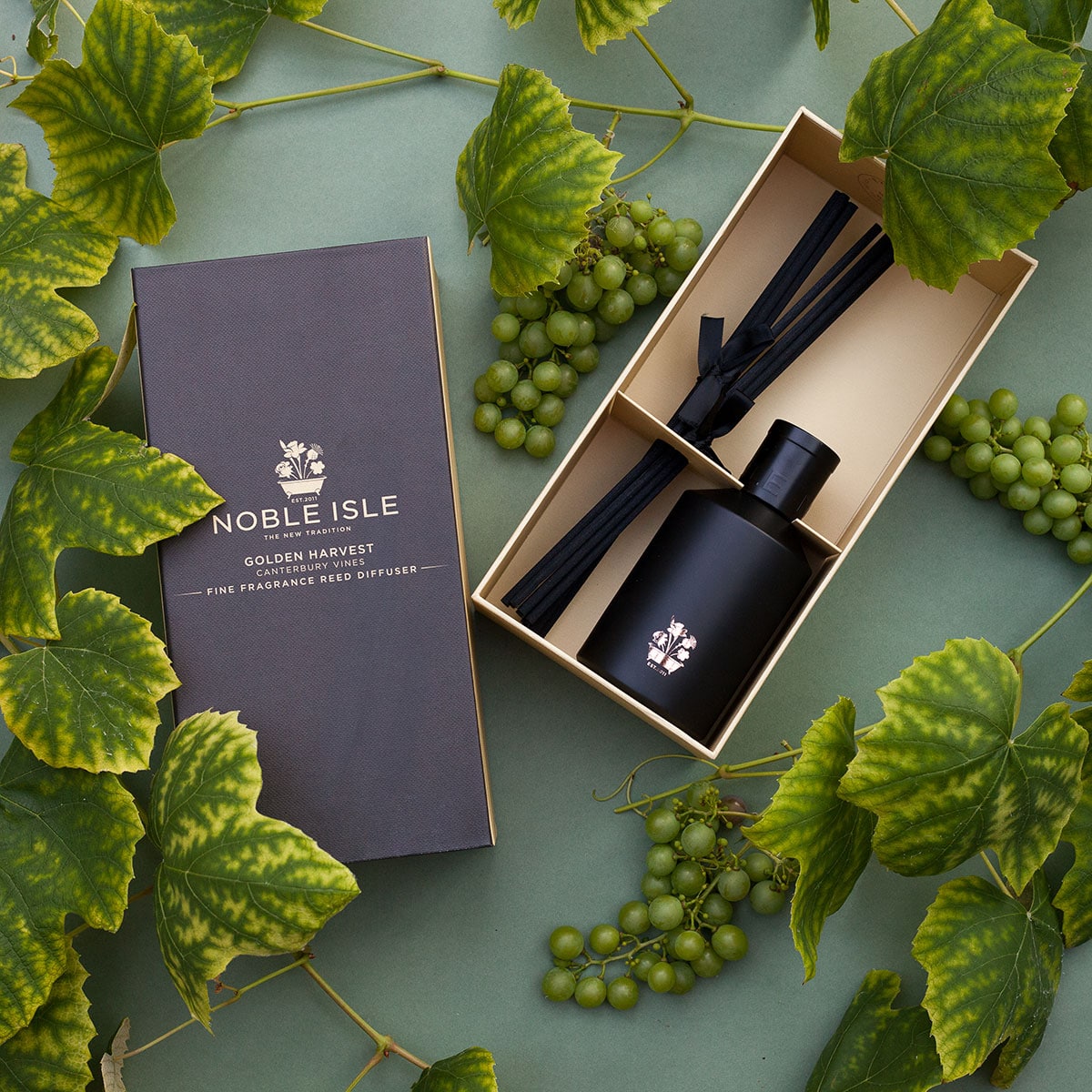 "But let him range round; he does us no harm;
We build up the fire, we're snug and warm;
Untouch'd by his breath see the candle shines bright,
And burns with a clear and steady light;"
'Address to a Child during a Boisterous Winter Evening' by Dorothy Wordsworth
This autumn we're thrilled to launch our new Home Fragrance collection of six scented candles and four scented reed diffusers, all made in West Sussex in the British Isles. As the days get shorter, there's something so homely and inviting about the natural light of a flickering candle as it casts a warm, flattering and optimistic glow across the room, encouraging us to be still for a moment to watch the flame dance. Fine fragrance has always been at the heart of Noble Isle – we believe scent plays a powerful role in enhancing a room's atmosphere, creating a specific ambience and intensifying our pleasure in our surroundings. So our founder Katy Simpson's aim for our Home Fragrance collection was to craft a range of scented candles and reed diffusers that would create a complete sensory experience for you and your home.
Sensory Delights
Our Home Fragrance collection took its inspiration from different areas within the British Isles. Each product is scented with a fragrance that has been expertly blended by our master perfumers to have top, heart and base notes so you'll notice beautiful subtleties and nuances as the scent is diffused.
Full Fragrance
All our candles contain 12% fragrance, the highest possible proportion (the average is 8% to10%). This means they really deliver in scenting a room. The high concentration of fragrance means you will need to trim the wick of your candle before lighting it and we recommend burning it for between 90 minutes and four hours at a time.
Timeless Design
Our scented reed diffusers and candles are encased in matt black glass stamped with the elegant Noble Isle Coat of Balm in rose gold – a design created to complement any interior. The candle glasses have a rose gold coating on their inner face that enhances the light and reflects the flame, adding to the warm, inviting ambience and creating a lasting sensory impression.
Let us introduce you to the collection:
NEW Lightning Oak – candle
Inspired by the Forest of Dean in the heart of England and blended to offer a distinguished, enduring fragrance, Lightning Oak has a spicy, smoky scent with a base of Vetiver and notes of Cardamom and Clove Bud.
Whisky & Water – candle & diffuser
Inspired by the Dufftown Distilleries in the north-east of Scotland, Whisky & Water is blended to create an experience as rich and warming as a dram of the finest single malt. A smooth, spicy and handsome fragrance, it perfectly enhances the enjoyment of a cosy evening by the fire.
Willow Song – candle & diffuser
Inspired by Lavenham Walk, a historic circular route that takes you through the woodlands and open fields of this picturesque part of Suffolk, Willow Song has a finely balanced floral scent expertly blended to create a soft and romantic atmosphere with top notes of Rose Petal and Ivy and a heart of Lily of the Valley.
Fireside – candle, three wick candle & diffuser
Inspired by the Mynwy Valley in the rolling hills of Monmouthshire in Wales, Fireside has been blended to create a warming, cosy ambience. Notes of Pink Pepper, Black Pepper and Ginger are grounded by Oakmoss and Vanilla to provide a mellow and spicy scent.
Rhubarb Rhubarb! – candle & diffuser
Inspired by the Yorkshire Triangle, a 9-square-mile area in West Yorkshire famous for producing rhubarb, Rhubarb Rhubarb! uses sparkling notes of Rhubarb, Juniper Berry, Aromatic Herbs and Moss to create a bittersweet scent that is evocative of a glorious Yorkshire spring day.
Golden Harvest – diffuser
Inspired by the renowned grape vines grown on the North Downs in Kent – the garden of England – Golden Harvest offers a musky and mellow aroma redolent of the fruits of the vine with a heart of Violet Leaf and Jasmine and notes of Grape, Green Apple and Juniper Berries.
Our candle and diffuser vessels, boxes and metal diffuser lid can be recycled and the grosgrain ribbon repurposed for gift wrapping or as a bookmark. The scented reed diffuser drawer boxes also make a useful keepsake.
You can shop our Home Fragrance collection here and read our guides to Lavenham in Suffolk here and to Mynwy Valley in Wales here.