March 18, 2014
RHUBARB RHUBARB! THE ORIGINAL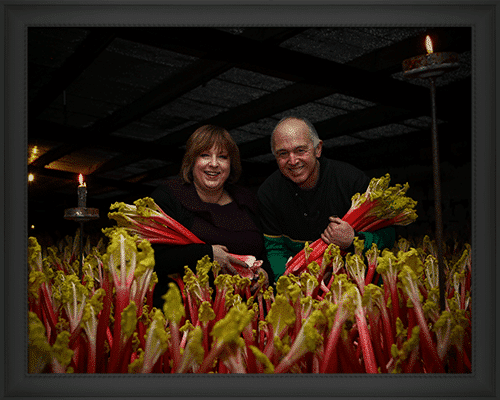 Rhubarb has been a treasured crop in Britain for hundreds of years and still remains popular today. Today you can find rhubarb all year round in shops, but this has not always been the case. During the railway age, the fruit had become such a fashionable delicacy that it commanded a dedicated train service, dubbed the Rhubarb Express, to speed it from Yorkshire to London, from where it was whisked off to European capitals.
Traditionally used in cooking, Rhubarb is also loaded with vitamin C and calcium as well as invigorating and cleansing skin properties, making it the perfect pairing for our hand duo. Noble Isle sources 'forced' rhubarb extract from E. Oldroyd & Sons, a sixth-generation rhubarb farm situated in the Yorkshire Triangle. This extract is blended into Rhubarb Rhubarb! Hand Wash and Hand Lotion and the fragrance exudes bittersweet notes of Rhubarb, Juniper Berry, Rosemary, Tarragon, Moss and Cedarwood – reminiscent of the dewy Yorkshire spring.
Launched in May 2012, all who experience the quintessentially British Rhubarb Rhubarb! fine fragrance are instantly captivated by the distinct, sophisticated and tart fine fragrance. It's no wonder then, that Rhubarb Rhubarb! has become one of our bestselling fragrances and firm favourites of top restaurants and hotels within the British Isles including BAFTA, Le Gavroche, The Savoy and the House of Holland studio.