February 19, 2020
Our Favourite Noble Isle Product Pairings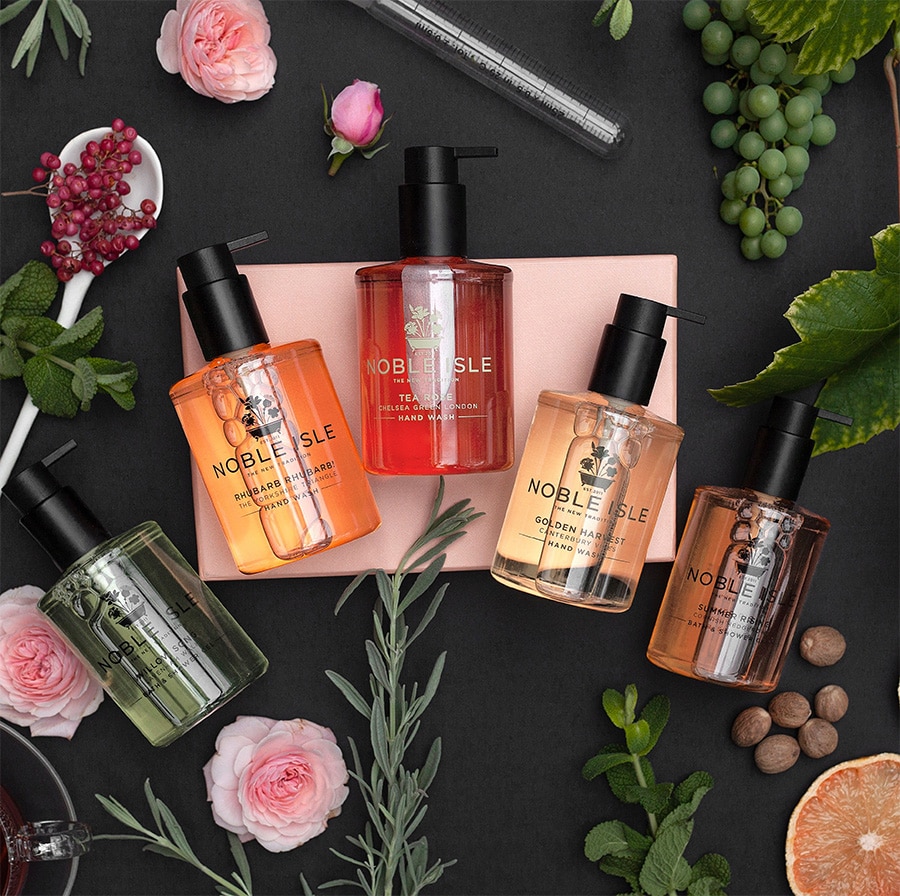 At Noble Isle we take the art of gifting very seriously and think beautiful presentation is a key part of the pleasure. Rather than layers of single-use disposable packaging, our founder Katy Simpson designed our signature hat box as a keepsake to be treasured and used time and time again. Each hat box is hand-made and wrapped in textured black buckram paper, embellished with our signature Coat of Balms and finished with a black grosgrain ribbon. You can create your own bespoke gift of two products using our online tool (where you'll also enjoy a cost saving). Our small team in Cheshire will then hand-wrap the gift and deliver it directly to the recipient for you or we can send it to you to pass on by hand.
Here our team have chosen some of their favourite product pairings to give you inspiration about what to include in your luxury gift: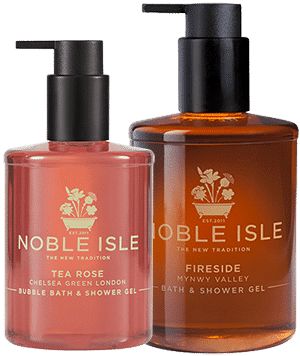 Tea Rose Luxury Bubble Bath & Shower Gel and Fireside Luxury Bath & Shower Gel
This is one of our favourite product pairings here at Noble Isle – we don't categorise our fragrances by gender and find that these two best-sellers are almost universal in their appeal. The warm and sensual notes of Fireside with its spicy aroma of cinnamon and cypress oil, grounded by comforting vanilla and oakmoss, are perfect for the end of the day when you want to feel nurtured and cocooned. By contrast, the pure and gentle notes of Tea Rose provide a refreshing pause in the morning (or any time of day ), with notes of jasmine and crisp clary sage.
Golden Harvest Luxury Hand Wash and Rhubarb Rhubarb! Luxury Hand Wash
We often find that people enjoy having different hand wash scents for their bathroom and kitchen. Golden Harvest Luxury Hand Wash is antioxidant with the scent of mellow fruitfulness, leaving your hands and the bathroom feeling fresh and clean. For the kitchen, purifying and cleansing Rhubarb Rhubarb! Luxury Hand Wash leaves hands invigorated and ready to cook.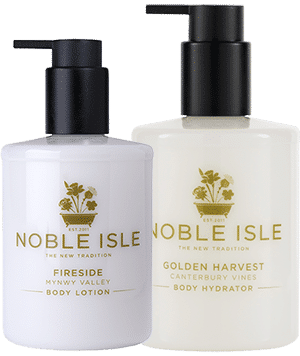 Fireside Luxury Body Lotion and Golden Harvest Luxury Body Hydrator
Just like scents and bath products, different body lotions suit different moods and times of day – so for a friend or loved one who enjoys moisturizing, look no further than this duo of body lotions. Golden Harvest has a light cooling gel-like consistency that means it's easily absorbed to leave the skin feeling plumped and soft – perfect when time is short in the mornings. Fireside Luxury Body Lotion is ideal for replenishing the skin after an evening dip in the tub, leaving the skin feeling smooth like satin and the blend of ginger, cinnamon and black pepper recharging the senses.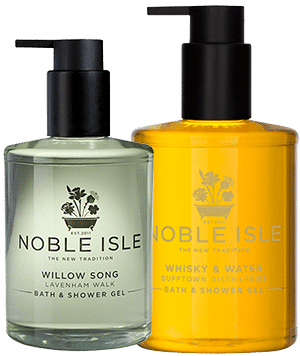 Willow Song Luxury Bath & Shower Gel and Whisky & Water Luxury Bath & Shower Gel
A calming duo! The serene scent of Willow Song, with its floaty green florals and grounding woody notes, is perfect for when you need to unwind and escape. Aromatic Whisky & Water is woody and spicy, a liquid gold gel blended with an abundance of proteins from Scottish barley extract to calm the skin.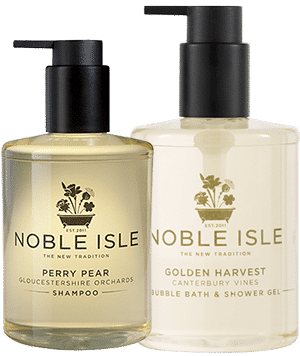 Perry Pear Luxury Hair Shampoo and Golden Harvest Luxury Bubble Bath & Shower Gel
This pairing is for the minimalist or those who like to keep things simple. People often discover our Perry Pear Luxury Hair Shampoo in a boutique hotel and find themselves hooked. It's a gentle blend you can use every day to leave hair looking healthy and glossy. Pair with Golden Harvest Luxury Bubble Bath & Shower Gel which can be used for a cleansing shower or for a bubbly soak in the tub.
Click here to try our online tool to help you craft your own unique gift. We'd also love to see how you re-use your hat box – tag us in on social media using @nobleisle