December 18, 2019
Our Christmas Gift Guide – Part Two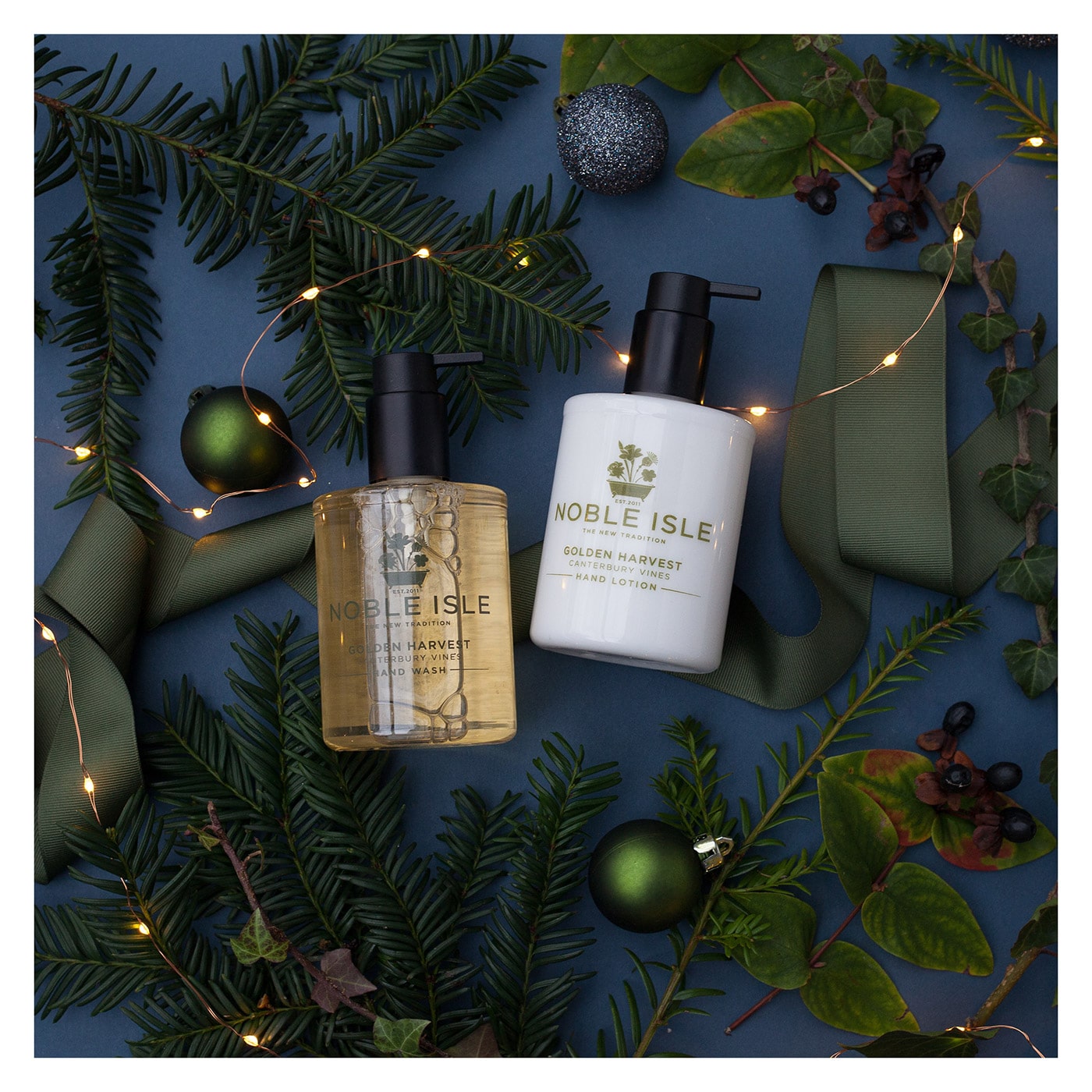 Continuing our guide to gift pairings, read on to discover our ideas for presents inspired by the British provenance of our unique extracts.
For those who love roses
Our founder Katy Simpson's inspiration for our Tea Rose Collection came from the decadent experience of a London afternoon tea with its rituals, finesse and attention to detail. When it comes to tea, then look no further than JING, created with a mission to source and share the very best that humankind and nature can produce. JING provided the black tea used to create the unique extract for our Tea Rose Collection. A Ceylon & Rose Tea Caddy from JING makes the perfect gift pairing with our Tea Rose Duo Gift Set or take a look at one of JING's Tea Explorer sets
For the rugged adventurer
Fresh, smoky and warm, our NEW Lightning Oak candle expertly balances smoky wood notes with crushed pink pepper and bergamot. Here at Noble Isle we believe in supporting traditional crafts and makers of the British Isles. There's something wonderful about buying direct from an independent maker with a rich story and heritage – so why not pair a Lightning Oak candle with a personalised oak chopping board from Make Me Something Special, a family-run business nestled deep within the Surrey Hills?
For the classic romantic
Award-winning British flower farmers and florists The Real Flower Company are known for their heritage scented roses and seasonal British flowers. So why not treat a loved one to one of their indulgent scented bouquets? We adore their Nordic Christmas Bouquet with its elegant white roses, pussy willow and white anemones. Our Willow Song Collection also celebrates the scent of white flowers with a unique extract made from Weeping Willow Bark and Water Lily from Lavenham Walk in Suffolk. We'd recommend a Willow Song Scented Reed Diffuser or Single Wick Candle to pair with a Real Flower Company bouquet.
For the connoisseur
Do you know someone who loves whisky? Why not add a touch of luxury to their favourite tipple by gifting them a pair of Norlan Whisky Glasses? These glasses were inspired by nature and then meticulously refined by master distiller Jim McEwan to capture the whisky's complex flavours and aromatics. Our Whisky & Water Collection uses a malted barley extract from the famous Balvenie distillery in Scotland to produce a rich and warming fragrance reminiscent of cosy evenings by the fire. Pair the whisky glasses with Whisky & Water Scented Reed Diffuser to create a truly indulgent and comforting ambiance.
For a taste of summer
For us, the first elderflowers of late May always herald the start of summer. Warner Edwards Elderflower Infused Gin uses only handpicked elderflowers, harvested once a year, to capture the essence of an English summer day. We suggest pairing a bottle of this artisan gin with one of our signature black hat boxes filled with Summer Rising Luxury Bath & Shower Gel and Body Lotion. The scent of our Summer Rising Collection was inspired by the lush, wild beauty of the Cornish hedgerows, with products infused with an extract created from gooseberries and elderflowers hand-harvested at their peak here in the British Isles.
You can read part one of our Gift Guide here or click here to shop our gift collection.