March 6, 2018
Noble Isles Guide to the UK: The Wilderness Reserve, Lavenham.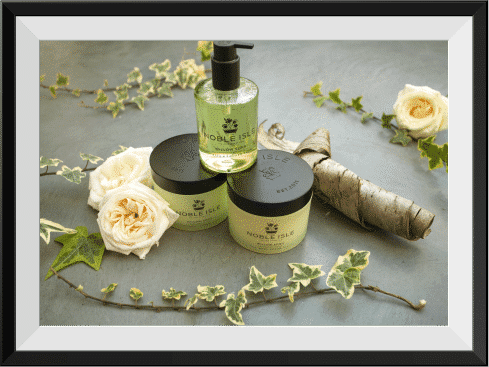 At Noble Isle, we work with a variety of celebrated producers to source the extracts for our fragrant Bath & Body collections and multiple luxury hotels around the British Isles. We wanted to take the opportunity to give you Noble Isle's Guide to the UK, by asking the people who know the area best, where the hidden gems of the region are.
This month we contacted The Wilderness Reserve in Suffolk, a luxury collection of manors, farmhouses and cottages in the Suffolk countryside. The Wilderness Reserve is located near to Lavenham Walk, where we source Water Lily and Willow Bark for our Willow Song collection.
Q1. The Wilderness Reserve is such a unique collection of manors, farmhouses and cottages, can you tell us a little more about it and its history?
The regeneration of the Wilderness estate began around 20 years ago using historic Capability Brown plans under the watchful eye of renowned landscape designer Kim Wilkie. Now the estate is a idyll pocket of Suffolk countryside with the traditional Cartshed, Farmhouse, Barn, Walled Garden, Orangery and Manor, Sibton Park, beautifully restored by local artisans to their former glory and more, offering a luxurious staycation featuring roll top baths, Hypnos beds, hot tubs, and acres of parkland to explore on our Pashley cycles. The Wilderness estate is a labour of love, and the conservation of the land and wildlife is at the heart of the Wilderness ethos with the estate heated by sustainable energy and local produce used where possible.
Q2. The Willow Song range uses natural extracts from Suffolk, do you enjoy having a product which promotes the local area?
Lavenham is a beautiful area of Suffolk, and it's really exciting for us that we are able to offer a product to our guests which is sourced locally.
Q3. If we were to spend 24 hours in Suffolk, where would be your top suggestions?
It wouldn't be right to spend 24 hours in Suffolk without going for a walk along Southwold beach before a leisurely late lunch at Sole Bay Fish Company – it has the best fresh seafood in Suffolk, caught that same day! Or we'd maybe head to Aldeburgh to pick up some fresh bread and cheese from the local artisan delis – we always pop in to say hi to Claire and Nico at Slate Cheese – before heading home to put our feet up by the fire in our Wilderness home. In the morning, we always suggest our guests take a short walk from Wilderness to the wonderful Darsham Nurseries for one of the best brunches Suffolk has to offer.
Q4. Where would you take your mother on Mother's Day in Suffolk?
For the outdoor loving mothers head to Aldeburgh Beach for a picturesque beach walk, or for the tipple lovers make your own gin at the Adnams distillery before watching the sunset from Southwold Pier. There's so much to do in Suffolk, but the ultimate treat would really be taking a Wilderness property with a chef for the weekend so she can truly put her feet up!
Q5. Are there any local delicacies we should try?
Pump Street Bakery chocolate is a must! The Sourdough and Sea Salt is our favourite.
Q6. Which if our fragrances would you choose as the perfect Mother's Day gift?
The Willow Song collection.