February 19, 2018
Noble Isle's Guide to the UK: Mynwy Valley in Wales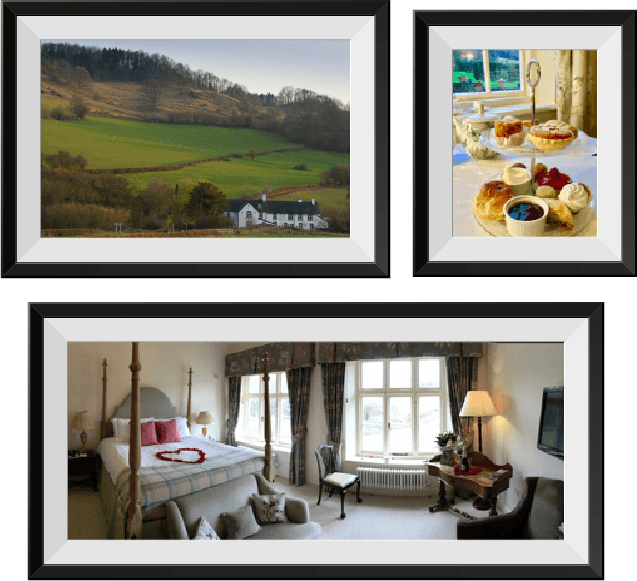 At Noble Isle, we work with a variety of celebrated producers to source the extracts for our fragrant Bath & Body collections and multiple luxury hotels around the British Isles. We wanted to take the opportunity to give you Noble Isle's Guide to the UK, by asking the people who know the area best, where the hidden gems of the region are.
This month we contacted The Bell at Skenfrith, Mynwy Valley in Wales. The Bell is a luxury boutique hotel set in the most tranquil of landscapes and the source of our beetroot extract which makes the Fireside collection so divine.
Q1. How does it feel having your own grown beetroot in one of our most popular Bath & Body collections?
We are immensely proud to have our home-grown beetroot in one of Noble Isle's collections. It is a classic British brand and our guests just love it – not many leave any bottles behind!
Q2. How long have you been growing beetroot and do you use it in lots of recipes at The Bell?
It's been grown at The Bell for nearly 18 years now and yes, Joseph Colman, our head chef loves beetroot and his menus reflect that. One of his favourites dishes is Beetroot Carpaccio, which is always popular.
Q3. What would you recommend for a Valentine's weekend in Wales?
With all the romantic walks, beautiful countryside, old castles and wonderful rivers – it's the perfect place to pop the question or just spend time together away from the 'noise'. With the lack of orange light, you can really study the stars and feel very close to Mother Nature.
Q4. Apart from The Bell, what other places do you like to visit in your area?
There's so much to discover but many people come to us for the walking. We have 6 circular walks, all with directions and maps, that were created for us by a couple that has been married for 60 years and walked every inch of this beautiful part of Wales. There are ancient castles galore including our very own Skenfrith Castle in the village.
A short drive away, over the English border (no passport required) is Hereford Cathedral and its world-famous Mappa Mundi. There is also Dore Abbey which can be seen en route to the lovely village of Hay-on-Wye. Brockhampton Church is a little Arts and Crafts church which is just outside the beautiful town of Ross-on-Wye. Sir Roy Strong's Laskett Gardens is just one of the many gardens to visit in the area. Being just on the River Monnow, there's plenty of fishing to be had and further upstream, or on the nearby River Wye, lots of canoeing and other water activities. I could go on but the best advice is just come and explore this very unspoilt, largely unpopulated area and make sure you spend a few days!
Q5. Next time we visit Wales, what local delicacies must we try?
That's a difficult one because all our food is local and delicious. I would strongly advise trying locally reared Welsh lamb, beef, pork and venison. Richard Vaughan's Huntsham Court pork is the absolute best in the country and used by all the top London restaurants. Welsh cheeses are so tasty, Welsh Wines hold their own in all the competitions, especially Ancre Hill's Rosé, local ciders such as Apple County Cider which is produced just up the road from us by Ben Culpin and his family. Ben will always take great pleasure in giving tours and doing cider tastings!
We make all our own jams and chutneys using locally sourced produce or grown in our garden. Local eggs, both hen and duck, have proper yellow yolks, local ice cream especially that from Rowlestone Farm tastes like real ice cream. So, my answer would be to try everything, leave nothing out.
Q6. Anything else you would like to say to our readers about Skenfrith?
The Bell at Skenfrith is an old 17th century coaching inn on the banks of the River Monnow. Of course, now it has been restored, it is a lovely, independent boutique hotel with all the modern must-haves. Cosy fires, squashy sofas, beautifully designed bedrooms with crisp linen, fluffy towels, welsh blankets, tea and coffee making facilities and real milk. Noble Isle rules in all the bathrooms so everyone smells wonderful too.
People come here above all to relax, enjoy the local countryside and eat good food. Many people just need to escape the hectic city life. They bring their dogs and walk with a certain amount of freedom, while observing the countryside code. The Bell has a dedicated Dog and Boot Bar, as well as a Pooch Parlour, both of which are very popular. Mobiles don't always work but the hotel does have good and free wifi.
It's good old-fashioned hospitality that you'll receive in this part of the world and everyone is always so friendly. We are about an hour from Cheltenham, Bristol and Cardiff, two hours from Birmingham, three hours from London.