June 4, 2020
Noble Isle: It Doesn't Just Smell Good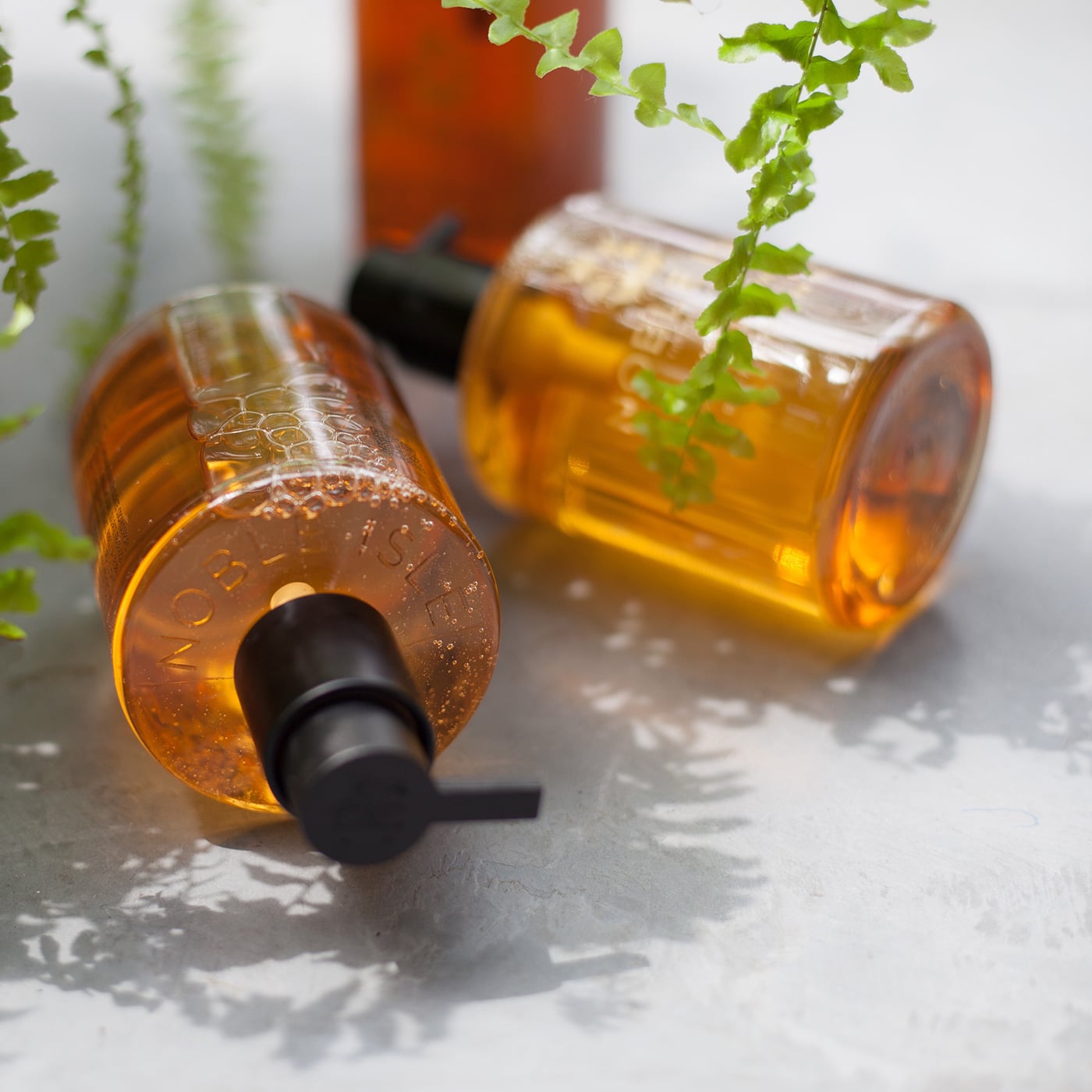 At Noble Isle, we are great believers in the power of scent and the ability it has to remind you of a person, place or a special moment in time. Each scent is created in a similar way to a perfume, with top, heart and base notes. These notes gradually wear off with time, revealing the notes underneath.
Just like a perfume, the scents of the Noble Isle products will linger on your skin for a couple of hours. Not only are the scents exquisite, we pride ourselves on the ingredients we use. The Noble Isle team scour the country to source natural extracts from celebrated producers around the British Isles to put inside each and every bottle, with each fragrance containing ingredients that are beneficial for your body and your mind.
We've recently made a change to the ingredients in our formulations, swapping the ingredients, where possible, to greener, more natural, more sustainable choices.
Read on to find out what other benefits your favourite Noble Isle fragrance has to offer you.
Whisky & Water
Malted Barley from the famous Balvenie distillery in Scotland is the source of the rich and warming Whisky & Water Bath & Body collection. Barley is a natural skin calmer, containing a wealth of proteins and B-group vitamins, which help promote healthy skin condition and tone.
Fireside
Beetroot from Mynwy Valley is the extract in our warming, sensual Fireside Bath & Body collection. Our blend of red, yellow and white organic beetroot contains naturally high-levels of vitamins, proteins, minerals and carbohydrates, as well as the powerful antioxidant betacyanin, which helps neutralise the damage of free-radicals.
Summer Rising
Elderflower and Gooseberry from the Lost Gardens of Heligan are the extracts in the immaculate Summer Rising Bath & Body collection. Elderflower– known as the 'people's medicine chest' – is rich in tannins, which provide antioxidant benefits, and is a time-honoured natural skin toner, combined with the natural antioxidant properties of Gooseberries.
Willow Song
Weeping Willow Bark and Water Lily from Lavenham Walk in Suffolk is the extract source of this romantic collection. Willow Bark extract contains salicin – known for its anti-bacterial properties – and provides natural beta-hydroxy acid activity, excellent in the treatment of dry skin and provides natural toning. Water Lily is a natural moisturiser, amplifying the benefits of Willow Bark in the treatment of dry skin.
Tea Rose
Pure Poetry Roses from The Real Flower Company in Chelsea Green London and Black Tea from Jing Tea, London are the extracts in the Tea Rose collection. Black tea is known for its' soothing and protective properties, combined with rose, which contains precious natural oils that help lock in the skin's moisture and promote smooth skin.
Rhubarb Rhubarb!
Rhubarb from a sixth-generation forced rhubarb farm in Yorkshire is the extract in the ever-popular Rhubarb Rhubarb! collection. Rhubarb is a natural cleanser, packed with vitamin C and calcium, as well as being known for its invigorating properties.
Golden Harvest
The Golden Harvest collection is created with antioxidant English grape extract. Extracts of English Chardonnay, Pinot Meunier and Pinot Noir grapes are one of the most powerful anti-oxidants in the plant world, helping to promote clean, bright, healthy skin.
Sea of Green
Both Sea Oak and Samphire are rich in vitamins and minerals promoting healthy, bright skin. Sea Oak is a form of kelp that has long been celebrated for its soothing effects on the skin, thanks to its abundance of minerals including iodine, calcium, magnesium and potassium. Samphire is a mineral rich coastal plant often found on rocks and crevices by the sea.0
Perry Pear
Perry Pear from the Gloucestershire Orchards is the source of our Perry Pear Hair care collection. Perry Pear contains a wealth of vitamins and minerals, including antioxidants, vitamin C and copper, which help boost the skin and hair's natural defences against free radicals.