December 13, 2019
Meet the Producer: Ruth Simpson and the Story of our Grape Extract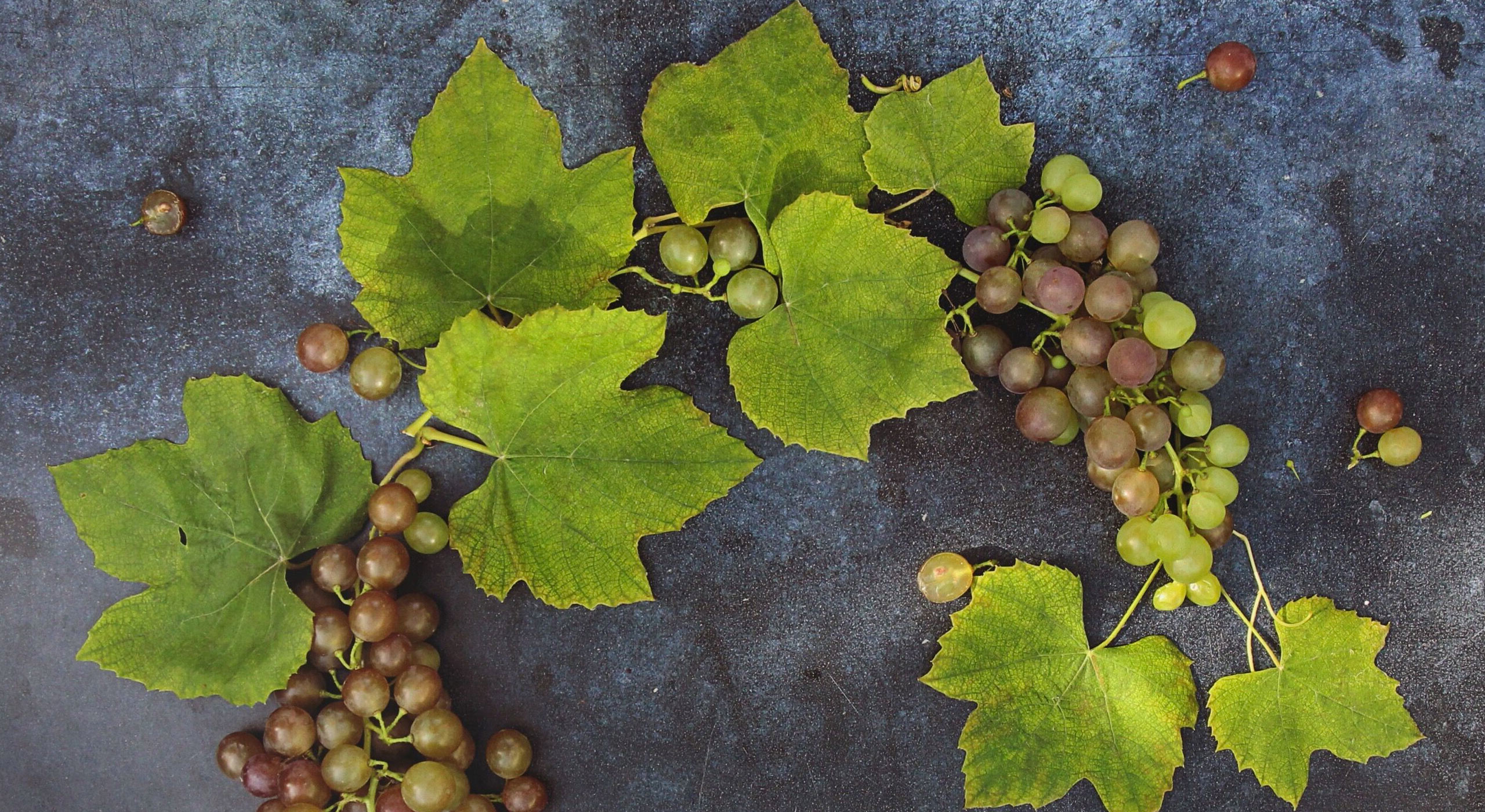 Grapes contain powerful antioxidants and help to promote clean, bright and healthy skin. Here at Noble Isle, we've loved watching and tasting as wine-making in England has blossomed. Simpsons Wine Estate, based on the North Downs near Canterbury, has been a pioneer. When our founder, Katy Simpson, first visited the estate she was immediately struck by how different the landscape was compared to French vineyards she'd visited: "It was just so vibrant and green," explains Katy. "There are trees everywhere and luscious green grass between the vine posts rather than the bare earth you find in France's hotter and drier wine estates."
For the unique grape extract we use in our Golden Harvest collection we combine the three grape varieties used to make English Sparkling Wine – Chardonnay, Pinot Meunier and Pinot Noir – all grown on Simpsons Wine Estate. We caught up with co-founder Ruth Simpson to find our more.
What's unique about growing grapes for wine in the Kent countryside versus other parts of the world?
At Simpsons, we believe that the finest wines convey a rich sense of provenance and integrity, firmly rooted in the characteristics and exquisite nuances of their terroir. This is why we settled for nothing less than the finest parcels of land in southern England to plant the vines for our first English sparkling wine.
The vineyards occupy glorious positions on the sunny, sheltered slopes of the North Downs of Kent, protected from the whimsy of the English climate by ancient woodland and anchored in the iconic chalky soils so highly revered in the world of sparkling wine.
Each vine has been planted and nurtured by us, and each bunch of grapes will, when the moment is quite right, be picked and pressed by us – allowing us to deliver the fullest expression of our Kentish terroir at every step.
Can you tell us a bit about the characteristics of the three types of grapes that you use in your English sparkling wine, which we also use to make the unique extract for our Golden Harvest collection?
Chardonnay – this is the only white grape variety grown on the Estate. It is hugely versatile, used to create some of the most expensive and renowned still and sparkling white wines. We selected some Burgundian still-wine clones (548 and 96) as well as Champagne clones so that we had an interesting blend for our sparkling base wines, but also with the hope that in good years that we might be able to experiment with some still chardonnay production. These clones tend to be lower yielding and therefore achieve better concentration of flavours.
Pinot Noir – this is the better-known of the two red grape varieties that we've planted. It is also extremely versatile, used to create red and rosé still wines and white and rosé méthod traditionnelle sparkling wines. As with the Chardonnay, we selected some Burgundian clones (Pinot Noir 115) as well as sparkling clones, and this, in conjunction with our exceptional terroir, means that we believe that we can create wines with the same minerality, poise, elegance and ageing potential as those grown in northern Burgundy
Pinot Meunier – this lesser-known red grape variety is an important part of the classic Champagne blend, although is usually a minor percentage compared to Chardonnay and Pinot Noir. In England it is seen as having a softening effect within a méthod traditionnelle blend as English wines benefit from a distinctive, racy acidity. Pinot Meunier is rarely used to make still wines; however, in 201, we created a still white wine from these red grapes. This wine has received critical acclaim and is particularly prized by sommeliers due to its extremely food- friendly style.
What is a typical day during the grape harvest?
Harvest is a very exciting but also very busy and stressful time of year. So much hinges on the weather that we find ourselves constantly checking the forecast and watching the sky! Given that we make both still and méthode traditionnelle sparkling wine, with the latter taking between 2 and 4 years to complete, the quality and quantity of the fruit harvested will dictate our workload and marketing strategy for the next 5 years!
On a typical day the winery team arrives at around 7am to prepare the equipment. Out in the vineyard, the picking team usually starts around 8am, with a briefing on what clone and variety is to be harvested. They then set off in groups into consecutive rows, snipping the best and cleanest bunches of grapes into buckets. The buckets are emptied into 200kg bins which make the 5-minute journey to the winery to be processed.
The bunches of grapes are loaded into one of Inertys pneumatic bag presses. (There are only two of these presses in the UK and we have both of them.) The pressing system protects the juice from oxygenation and provides an additional tool to increase the flavour spectrum. The free-run juice created by the movement and natural weight of the fruit flows directly into a spotlessly clean stainless-steel tank. When the free-flowing juice slows, the first cut is made. The press then begins its gentle pressing cycle and the first 'pressed' juice is diverted to a separate tank – contact with the grape skins means that this juice will pick up more flavour, body and texture.
We usually press two loads of grapes each day and once these are complete all the equipment is cleaned and sterilised. This less glamorous part of harvesting is extremely important in the creation of top-quality wine.
You can shop our Golden Harvest collection here and discover more about Simpsons Wine Estate here.