April 27, 2022
CELEBRATING 10 YEARS OF NOBLE ISLE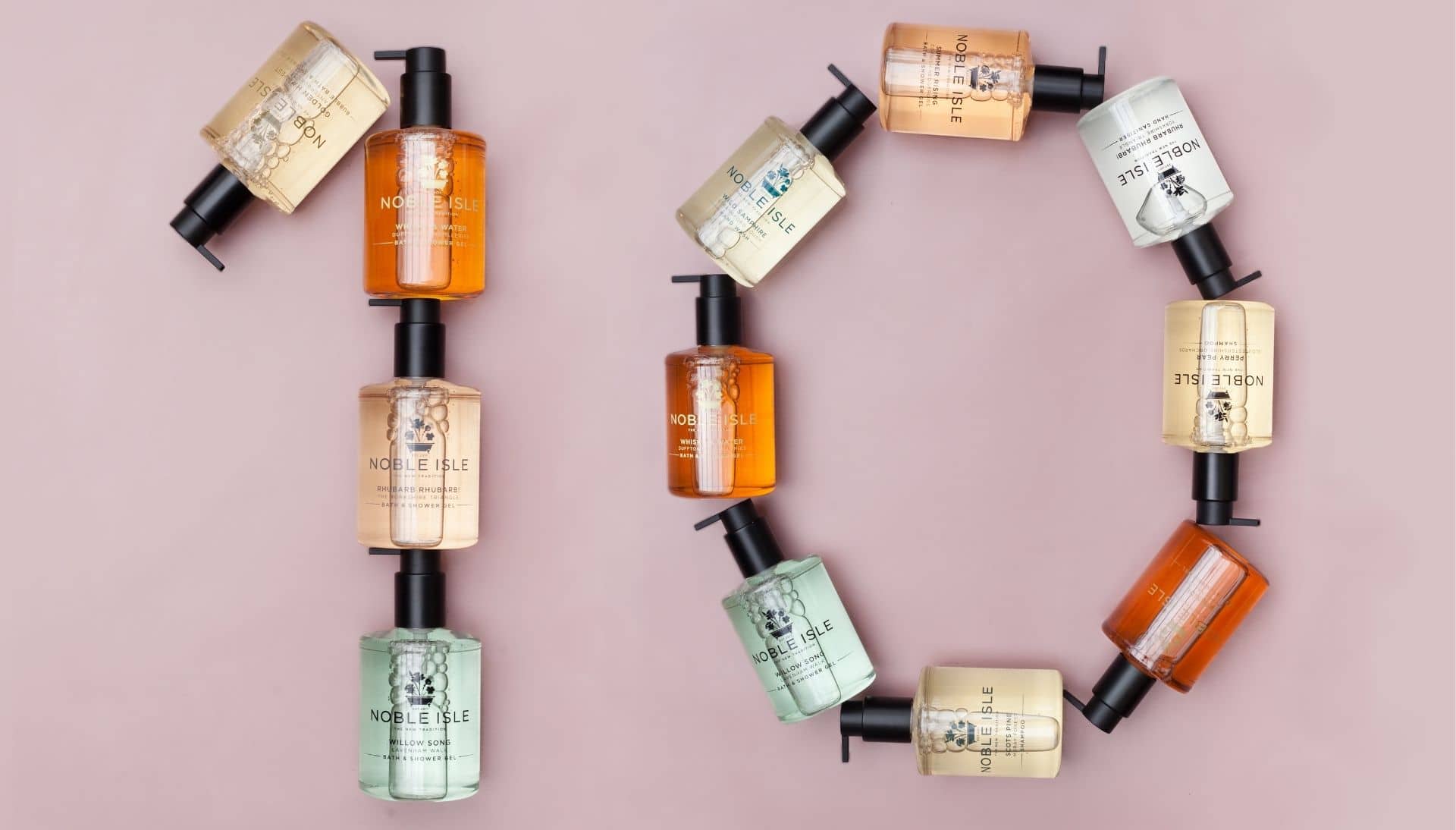 It was ten years ago this May that our founder Katy Simpson had a real 'pinch me' moment when Noble Isle launched in Liberty London and Fortnum & Mason. From idea conception to product launch had taken 17 months. Katy has since been named one of the 50 Most Influential People in British Luxury by Walpole and one of the six powerhouses to be named as 'Tastemakers' – Influencers with a great network who others look to for advice and inspiration.
We caught up with Katy to find out more the last ten years, how she makes it work and what's next for Noble Isle…
What has been your proudest moment from the last ten years of Noble Isle?
The best moments for me are when I read a customer review and one of our products has touched someone's life, made a difference and has bought delight or joy to someone's world.
What do you wish you could go back and tell yourself when you were first starting out?
Believe and it will happen.
What do you most enjoy about your job?
The creativity of making beautiful products; I love the entire creative process from an idea, through to creation and the product development process – then seeing it for the first time in a store. Your idea, that was in your head, has come to life and is physical – it is an exciting feeling.
How do you unwind and switch off?
Exercise and food! I love cooking creative menus for friends and family and am currently enjoying Ottolenghi's cook book, "Simple". To balance out all this eating, I exercise 4 times a week and my favourite exercise is running, which is very good for my mental health and wellbeing.
You've travelled extensively throughout your career – what are your essentials to take with you on each trip?
Notebook and pencil, you never know when inspiration will strike.
Music to inspire.
Trainers for running and exploring new cities before or after work.
My favourite Missoni scarf, the smell reminds me of home.
What milestones stand out to you from the last 10 years?
Noble Isle winning the Walpole Brands of Tomorrow Award in 2016 and in 2022 being named as one of the '50 Most Influential People in British Luxury' by Walpole.
Have there been any clouds that have turned out to have a silver lining along the way?
An IFRA law changes meant a great deal of our fragrances needed to be reformulated by removing an ingredient and this allowed for the whole range to be changed to be natural, something I had wanted to do for years
Whose support has been invaluable in building Noble Isle?
Some of our long-standing partnerships with hotels and retailers who took a chance ten years ago on a small, unknown brand. We would not be where we are today without them.
My family have been my mentors and helped me through the roller coaster of starting a business.
What's next for Noble Isle?
Fine Fragrance – perfume…
How would you like Noble Isle to be known?
A great British brand – strong, grounded with integrity.
Do you have a favourite Noble Isle fragrance?
Willow Song, but I am creating a new fragrance called The Greenhouse – due to launch in September and it could be taking the lead!
What inspired you to start Noble Isle?
I wanted to create a truly British brand, sourcing ingredients from all the countries within the British Isles, highlighting and promoting British culture and heritage.
Where do you get your inspiration for new collections?
All my inspiration comes from mother nature and the landscape around me. When I walk my dogs or run through the countryside, watching the seasons change and nature coming to life year after year, Autumn harvest time, the riches the earth provides for us, and the colour combinations nature creates. I am in awe at her greatness and creativity.
Click here to discover our limited edition 10 Year Anniversary gift packaging.